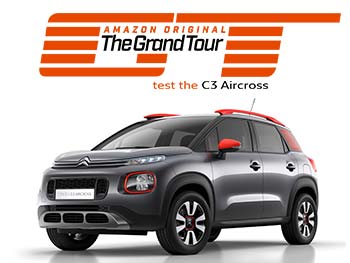 The Grand Tour review the C3 Aircross
Jeremy Clarkon reviews the Citroen C3 Aircross in a recent Grand Tour episode and puts it through some distinctly unusual tests.
We can all agree that the hosts of The Grand Tour are amongst the most flamboyant of critics of cars. With their seemingly endless collection of supercar reviews, it is a refreshing change to see them tackle a daily driver.
Recently the ever-opinionated Jeremy Clarkson took to the roads of France to show the true capabilities of the Citroen C3 Aircross. Having already reviewed it in the Times motoring section, Jeremy, recalling the surprisingly capable Grip Control during the Beast from the East, though it was time to showcase this popular car in the only way he knew how….to excess!
Starting with completely random questions posed to make you keep watching and dismay at the audacity of it all, the review was thorough; more thorough than any reviewer had dared to go. Below details just some of the escapades that he got up to in the C3 Aircross but for the full effect, view the episode in full. It's well worth it!
So how did the C3 Aircross get on in the Grand Tour challenges?
Is it faster than itself?
The top speed of the C3 Aircross model Clarkson was driving was 115 mph. He shows how it can achieve more..much more.
Can it pull a 13,000 tonne ship?
Without doubt this is perhaps the most extreme of tests. A feat that you would expect to be impossible. With many doubters onlooking, Clarkson shows the tenacious C3 Aircross can truly tow more than you could imagine.
Is the boot big enough for a horse?
As a viewer, we may feel perhaps a little cheated by this test but nevertheless the vertically challenged horse certainly can fit in the boot of the C3 Aircross.
Would it work for the French police?
A custom tuned De Tomaso, an impossibly long French baguette and a worrying moustache, makes for a highly entertaining cops and robbers chase through the streets of France.
Could a Tunisian general use it to invade Italy?
This task really should have been titled "Can it climb every mountain like Julie Andrews" but nevertheless, the C3 Aircross' Grip Control feature is put to the ultimate test amongst the Alps.
General Enquiry
Sales Location
189-191 High Street
Aldershot
,
Hampshire
GU11 1TS
Phone:

01252 21 31 50
| | |
| --- | --- |
| Monday | 8:30 AM - 5:00 PM |
| Tuesday | 8:30 AM - 5:00 PM |
| Wednesday | 8:30 AM - 5:00 PM |
| Thursday | 8:30 AM - 5:00 PM |
| Friday | 8:30 AM - 5:00 PM |
| Saturday | 8:30 AM - 5:00 PM |
| Sunday | Closed |
Serving Aldershot, Farnham, Farnborough, Fleet & the surrounding area with new and used Citroen